Gatelink Automatic Gate Opening System Remote Control Introduction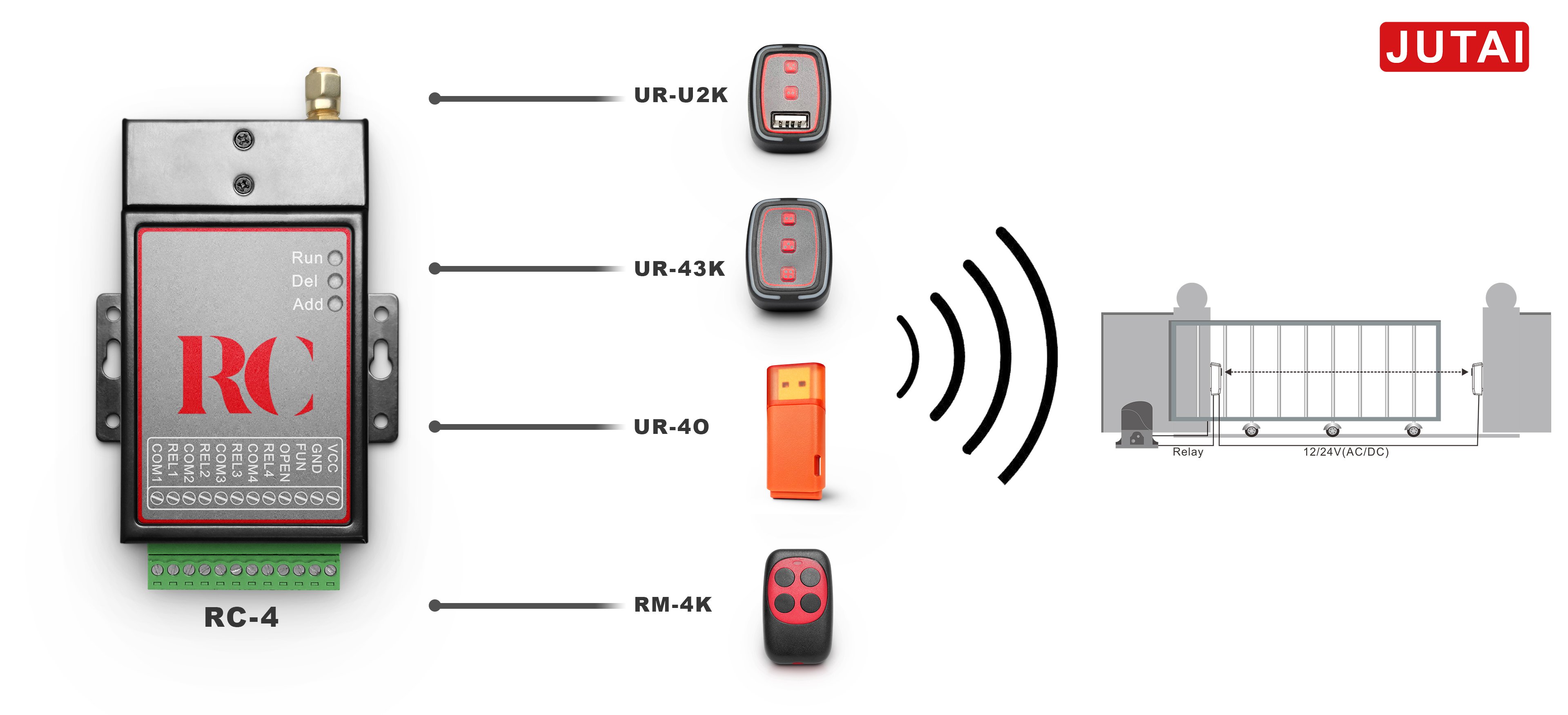 Product Introduction
CarLink Mini USB intelligent induction door opening system is composed of transmitter, receiver and antenna. The transmitter is changed from the previous car cigarette lighter socket transmitter to a USB interface transmitter, which is not only more convenient, but also does not occupy the car cigarette lighter position, a simple but not simple set of equipment, open your intelligence life.
Transmitter
The transmitter is a USB interface plugged into the car, the LED light will flash when power is turned on, and a signal will be transmitted every 3s.
Receiver
The receiver is connected to the "door open interface" of the door opener and receives signals.
Antenna
Increase the sensing distance between transmitter and receiver.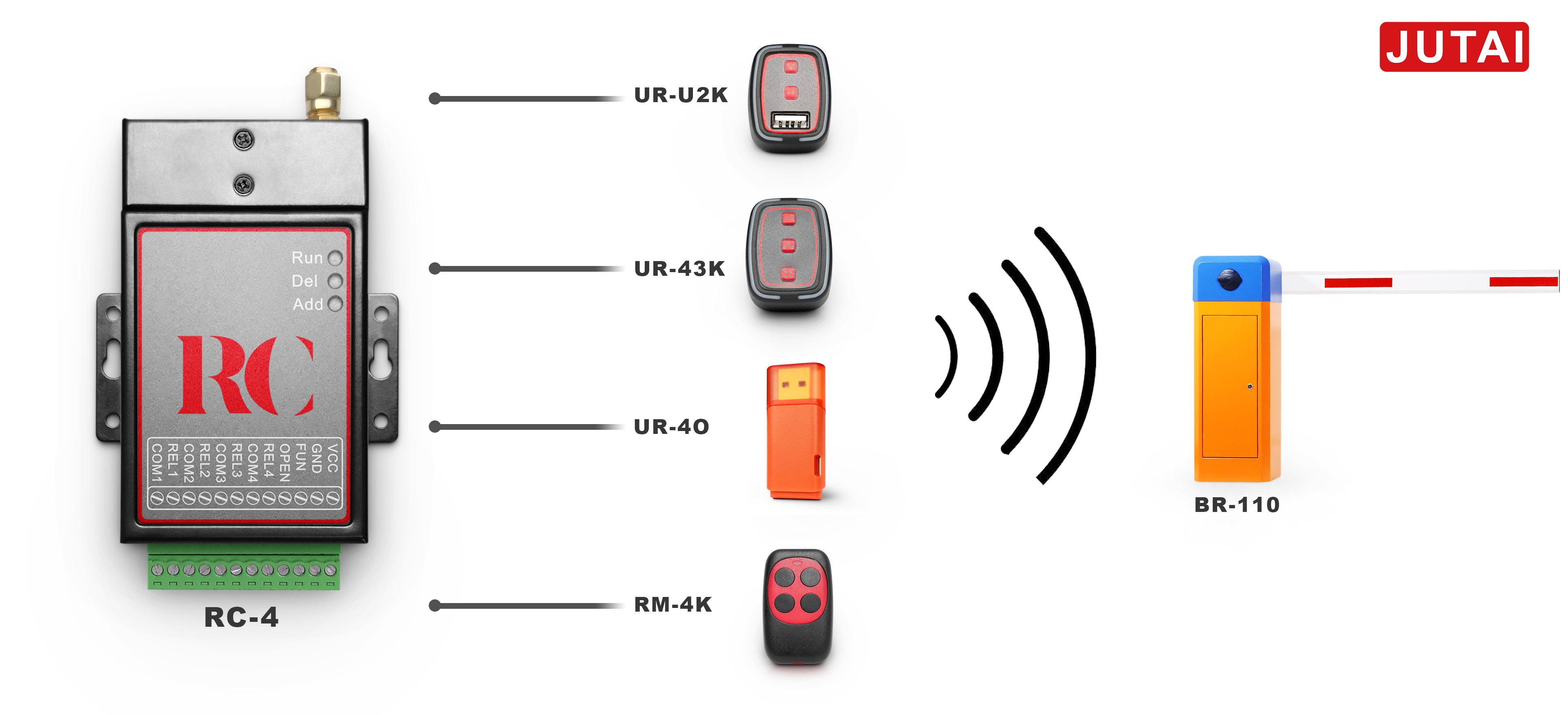 JUTAI Gatelink Solution includes the gate receiver, it can connect to your barrier gate controller, auto gate motor controller,etc.
RC-4 is 4 relays gate receiver.
working with the UR-4O USB auto-opening gate (plug in the car);
working with the UR-43K auto-opening gate with a remote button ( plug in the car);
working with the UR-U2K auto-opening gate and remote button and mobile charger (plug in the car)
working with RM-4K 4buttons remote control ( remote by your hand).
working with RM-2K 2 buttons remote control (remote by your hand).
REC-3 USB cable for programming the encrypted software, which you can set the same PIN password between the receiver and transponder. this function we open for our client, that is a more flexible solution and you can control your own market project directly.
welcome more and more of our distributors and make more profits together.
Gatelink Automatic Gate Opening System Remote Control Technology Parameter
1. Frequency: 433MHZ
2. ASK system
3. Code: anti-cracking rolling coding
4. Working distance: >35 meters in the air
5. Add and delete ID mode: through short-circuit or special remote controller
6. Encryption: via USB cable (line should be customized)
7. Working voltage: 12-24VDC,12VAC
8. Storage capacity: 32 ID numbers, larger capacity should be customized.
Gatelink Automatic Gate Opening System Remote Control Applications
Autogate entry access control
Boom barrier gate entry management
smart auto parking lock application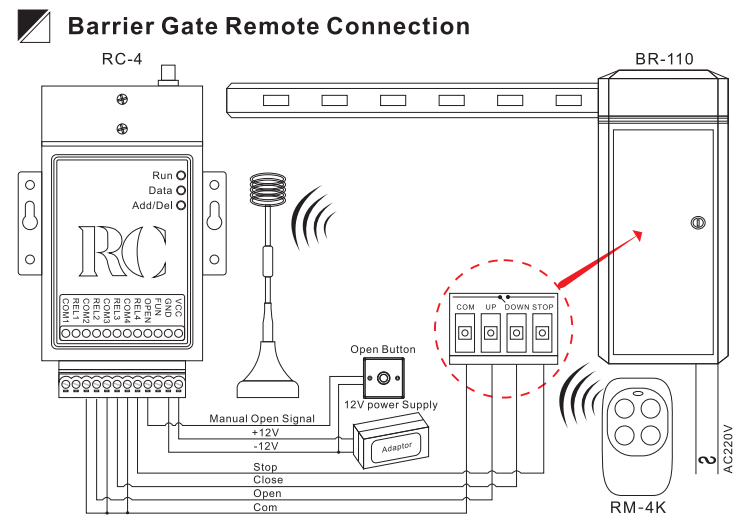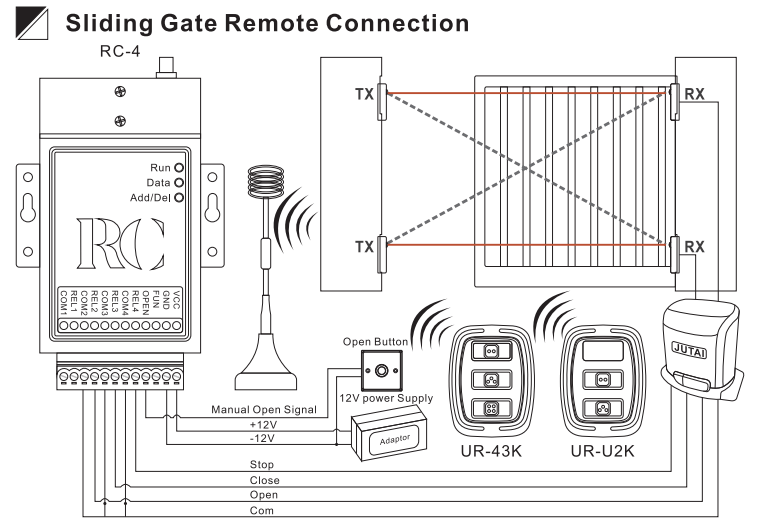 JUTAI CarLink Mini USB Advantage
1. Carlink Mini USB smart sensor door opening system.
2. When the car is driven to the induction range of the motor signal, the door will open automatically without pressing the remote control. Your door only recognizes your car.
3. After the car is turned off, or the signal sensing out of the range, the automatic door closing function of the motor will close the door after a set time.
4. Completely realized that you can open and close the door without pressing any button without any key.
5. A transmitter can be equipped with 27 CarLink Mini USB.
Tel:+8613043479091
Email:jutaigateaccess2@gmail.comor:sales15@jutairfid.com
Whatsapp:+8613043479091
Wechat:008613043479091 13043479091
WWW:http://jutaigateaccess.com
For more about CarLink Mini USB gate solution, GSM, APP gate automation, remote control gate opening system, etc. Please feel free to contact us. Gatelink Automatic Gate Opening System Remote Control